1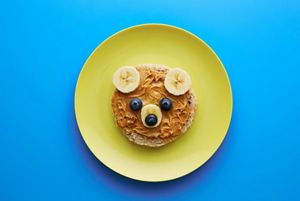 Prep time: 5 mins            Cook time: 2 mins            Serves: 2 toddlers
Ingredients
2 slices Bread
2 tbsp smooth peanut butter
1 Banana (sliced)
6 blueberries
Method
Toast the two bread slices until golden brown.
Spread 1 tablespoon of peanut butter onto each slice of toast and shape into 1 large circle for the teddy bear face and 2 smaller circles for the teddy bear ears.
Place a banana slice in the centre of each small circle to make ears, and one banana slice in the centre of the large circle for a mouth.
Place 2 blueberries over the centre banana slice to make eyes, and 1 blueberry on top of the centre banana slice. See picture for a guide!
Nutritional Benefits
This recipe is a source of niacin which helps to reduce tiredness and protein which is important for healthy bones and muscles.
Tip
To keep breakfasts interesting try making different faces and shapes with a variety of fruits!