1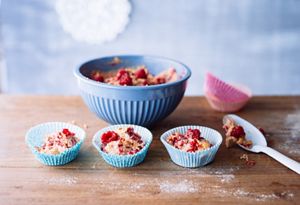 Serves: 24 small muffins    Cook time: 25-30 mins   Prep time: 10 mins 
Ingredients
400g porridge oats
2 tsp bread soda
½ tsp salt
1 lemon (zest of)
2 Bananas
500g natural yoghurt
4 tbsp milk
150g raspberries
Method
Preheat oven to 160°C.
Blend the oats in the food processor until very fine.
In a large bowl, mix the oats, bicarbonate of soda, salt and lemon zest.
Mix the yoghurt and mashed banana together.
Add the wet mixture to the oats mixture and stir together.
Add the milk and fold the berries through the mixture.
Line a muffin tin with paper cases and fill with the mixture.
Bake for about 20-25 minutes until golden brown.
Allow to cool and serve.
Nutritional Benefits
These tasty fruity muffins are perfect for toddlers as they have no added sugar. They are high in vitamin E which supports the immune system and calcium for healthy bones.
High in:
Vitamin E
Thiamin
Tip!
You can replace the raspberries with blueberries or use a combination of both! Freeze leftover muffins for healthy toddler breakfasts on hand or keep for yourself!