1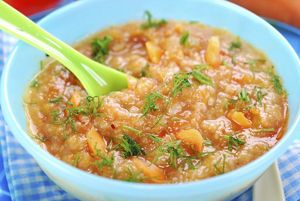 Tasty Tomato & Lentil Soup
Serves: 2 portions               Cook time: 40 mins                    Prep time: 5 mins
Ingredients
1 tsp olive oil
400g chopped tomatoes (1 tin)
1 clove garlic (crushed)
50g red lentils (split)
1 onion (finely chopped)
1 tsp tomato puree
100ml water
1 tsp basil (dried or fresh)
Method
In a large saucepan, heat a little oil and add the onion and garlic. Saute gently on a medium heat until softened.
Add the tomatoes, tomato puree, lentils and water. Cook on medium heat stirring occasionally until it comes to the boil.
Once boiling, reduce the heat and simmer for 20 minutes.
Add the basil and stir through.
Remove from heat and blend to desired consistency.
Allow to cool to appropriate temperature for baby, test and serve.
Tip
This is a great way to introduce tomatoes to baby and lentils are a good source of protein. Add more vegetables to alter flavour and add extra nutrients. Serve with fingers of wholegrain toast when baby is accepting finger foods.
Tasty Tomato & Lentil Soup