Ready to Drink Aptamil Follow On and Toddler Milks

Ready to Drink Aptamil Follow On and Toddler Milks

Get Ready to Go
Get ready to go with Aptamil Ready to Drink Follow On Milk - anytime, anywhere!
Ready to Drink Aptamil Follow On & Toddler Milks are an excellent choice when you want a feed that is quicker and easier to prepare than powdered formulations. With no mixing, or boiling and cooling water they are ready to drink!
Simply shake, pour into a sterilised beaker and feed to your little one
Great for days out, night feeds and holidays
Easier to prepare than powdered formulations for grandparents or babysitters
Ready to drink anytime, anywhere
A Range of Convenient Packs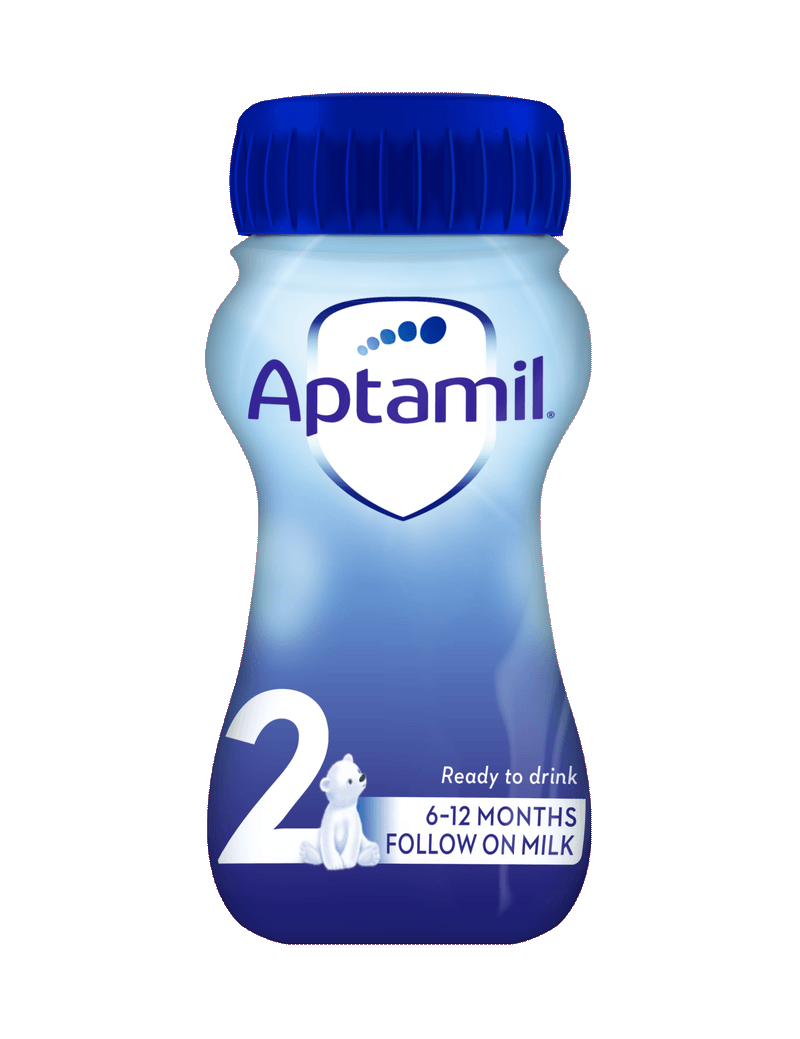 Our Aptamil Follow On Milk and Toddler Milks are available in a:
Handy 200ml size
6x200ml multipack
1L size
Also available is our Aptamil Profutura Follow On Milk in 200ml.
Both powdered and ready to drink Aptamil Follow On and Toddler Milks contain iron to support normal cognitive development, and calcium and vitamin D for normal development of bone, as part of a varied, balanced weaning diet.
View all products
Can you take Ready to Drink formula through airport security?
Yes, in Ireland you can take infant formula and breast milk on board a plane, although the baby may need to be present.
Many airports around the world make allowances for families travelling with baby food, formula and breast milk, although you may be asked to taste the liquid to prove it is harmless when passing through security.
However, not every worldwide airport permits you to fly with formula milk; there are some countries which ban all liquids and gels. If in doubt, call your airline and ask before you fly.
Can Ready to Drink formula be given cold or at room temperature?
Yes, they can be served safely both chilled and at room temperature. The temperature at which you decide to serve it will depend on your (and your baby's) preference, as well as what is most convenient for you at the time.
Does the Ready to Drink formulation look or smell different to the powdered formulation?
Some parents notice a slight difference in the look and smell of Ready to Drink formula compared to formula that has been prepared from powder, due to different processing methods used in production. However there shouldn't be a great deal of variance.

How do I store Ready to Drink Follow On Milk/Toddler Milk?

Store unopened bottles in a cool, dry place.
Once opened, unused Follow On Milk/Toddler Milk still in the bottle must be refrigerated immediately. The 200ml can be kept for up to 24 hours in the fridge and 1 litre for up to 48 hours.
Unfinished feed/drink in the beaker should be discarded within 2 hours.
Can you use powders and Ready to Drink Follow On Milks/Toddler Milks together?

It is completely safe to use powdered and ready to drink formulations in combination with one another, however please do not mix them together in the same bottle to make a drink. Please follow the feeding guides on the back of the packs.
Questions about feeding and nutrition?
Our nutritionists and feeding advisors are always on hand to talk about feeding your baby. So if you have a question, just get in touch.
Quality, assured
We are devoted to providing you & your baby our very best.
Our Nutricia factories don't produce for any supermarket own label or own brand products.

Find out more about our commitments to high quality
Important notice
Breastfeeding is best for babies. Infant formula is suitable from birth when babies are not breastfed. Follow-on milk is only for babies over 6 months, as part of a mixed diet and should not be used as a breastmilk substitute before 6 months. We advise that all formula milks including the decision to start weaning should be made on the advice of a doctor, midwife, health visitor, public health nurse, dietitian, pharmacist or other professional responsible for maternal and child care, based on baby's individual needs.
Do not use if your baby has been diagnosed with a cow's milk allergy.
Use Toddler Milk as part of a varied balanced diet from 1 year.