placeholder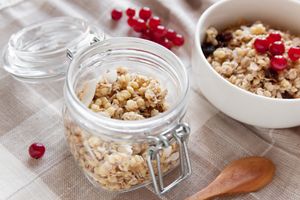 Apple and Cinnamon Granola
Cook time: 30 mins        Prep time: 10 mins        Serves: 8 portions
Ingredients
400g oats (rolled)
80g bran
150ml unsweetened apple juice
50ml honey
3 tsp cinnamon
50g pecans
50g dried apple
50g walnuts
Method
Preheat oven to 170°C (150°C for fan oven).
Prepare baking tray with grease proof paper.
Mix the oats, bran, cinnamon, walnuts, pecans and dried apple in a bowl.
In a separate bowl, mix the apple juice and honey.
Pour this mixture over the oat mixture and stir.
Pour mixture into baking tray and bake for 30 minutes, stirring half way through.
Allow to cool.
Nutritional Benefits
This tasty granola is high in fibre for a healthy bowel and to prevent constipation. It is also a source of iron for brain development and for increased blood volumes during pregnancy.
HIGH IN:
Fibre
Thiamin
LOW IN:
Saturated fat
Homemade Apple & Cinnamon Granola