Baby showers are growing in popularity in Ireland. A close friend or relative usually organises it for the mum-to-be. They are a great way of getting close friends and family together to celebrate the pregnancy. It doesn't have to be an expensive occasion, make sure to plan first and see what your budget is. If you are worried that people will feel obliged to buy you a gift, have a donation box for charity instead and include this on the invitation.
If you would like to hold a shower for a close friend but are not sure where to start, here are some ideas to help get you started.
It's a nice idea to set a theme for the shower. Popular themes include seasonal themes e.g. Winter Wonderland/ Christmas, or one of the guest of honour's interests e.g. favourite sport, animals etc. Setting a theme is also a creative opportunity to reveal the gender of the baby.
Games:
Traditionally there are a range of games organised for the guests to participate in.
A personalised quiz based on the mum-to-be e.g. 'How well do you know the new mum' is a fun idea that can be personalised for the expectant mum.
Other ideas include:
Baby word scramble/word searches/baby trivia:
Choose a number of baby related words and scramble them up. Divide the guests into teams and the team who completes the sheet first wins.
Guess the baby's date of birth:
Allow every guest to guess the baby's birth date and mark each guess on a calendar.
Baby wish tree:
Everyone offers up a wish for the baby and they
are displayed on a tree/board for mum to show baby in the future, this is a lovely keepsake for friends and family to look back on.
Mum-to-be tips
Everyone writes down their top tip for the mom to be, a great little keepsake for the expectant mum.
Guess the friend
All the guests send the host a photo of when they were babies and the host puts them up on a board for everyone to guess who is who.
Baby bingo
Choose your own baby words and have a game of baby bingo!
Baby shower in a box: 
If friends and family are settled around the world this is a lovely idea. Ask close friends and families to write a short letter to the new mum including fond memories, a small gift, and a fun game. Ask 'guests' to include a photo of when they were young and ask the mum to be to guess who is in the pictures. This box can be a time capsule including things from the past and presents for the future. Baby showers are a great excuse to celebrate the new addition to the family
Nibbles and Refreshments:
When it comes to the food and drinks, keep it simple. Prepare as much of the food as you can the night before to save you stress on the day. Here are some simple ideas:
Mocktails:
Virgin Mojito:
Makes: 4 servings
500 ml water
1 handful of mint leaves
Juice from 1 lemons
Crushed ice
Fresh mint sprigs, for garnish
Method:
Combine the water, lemon juice and mints leaves and chill in the fridge until ready to serve. Add the crushed ice in before serving
Strawberry cooler:
Makes: 4 servings
Ingredients:
100ml chilled orange juice
400g (1 punnet) hulled strawberries
500ml chilled sparkling water
1 sprig of mint
Juice of 1 lime
Crushed ice
Method:
Blend the strawberries with the orange juice and the lime juice.
Add the sparkling water and the mint leaves and chill in the fridge until ready to serve.
Add the crushed ice in when ready to serve.
Cucumber roll ups: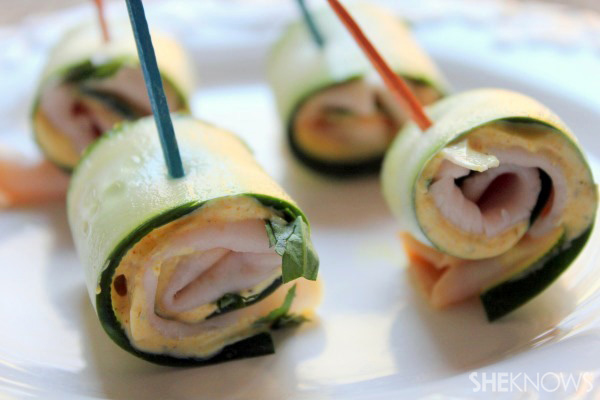 Makes: 4 roll ups
Ingredients:
1 cucumber
250g natural yoghurt
1 tbsp. curry powder
1 tbsp. lime juice
Freshly ground pepper
1 tbsp. herbs, such as coriander or rosemary
2 slices of ham or turkey halved (optional)
Method:
In a bowl mix the yoghurt, curry powder, lime juice, pepper, and herbs.
Thinly slice the cucumber and arrange on a covered baking tray.
Spread the yoghurt mix on the cucumber slices.
Place the ham on top.
Roll the slices and secure in place with cocktail sticks.
Frozen yoghurt coated strawberries:
Ingredients:
Strawberries
Yoghurt
Method:
Dip strawberries into desired flavour of yoghurt. Place strawberries on tray. Freeze for at least 6 hours. Enjoy frozen!