If you have any leftover pumpkin flesh from carving your pumpkins this year then these easy weaning recipes are the perfect way to use it up. It is also nice to give baby their first taste of pumpkin! Pumpkin is rich in beta-carotene which is important for healthy vision. It is also delicious! If your baby is past this stage or you are looking for a way to use pumpkin up yourself some other ideas are pumpkin curry, pumpkin bread or pumpkin with pasta. Happy Hallo-wean!
Pumpkin and Apple Purée
Makes approx. 5 portions
Ingredients:
200g pumpkin, peeled and chopped
1 apple, peeled and chopped
4 tbsp. of baby's usual milk or water
Some water for cooking.
Method:
Place the pumpkin in a saucepan, cover with a little water.
Bring to the boil, reduce heat and simmer for 10 minutes.
Add in the chopped apple and continue to simmer until both are nice and tender.
Remove from heat and drain.
Add in the milk or water and purée to desired consistency.
If thicker purée required, reduce the amount of liquid or thicken with baby rice.
Pumpkin Soup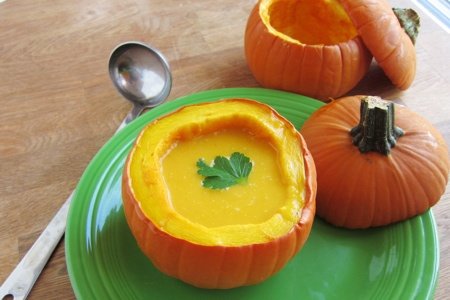 From 6 months+. Makes approx. 4 portions
Ingredients:
250g pumpkin, peeled and diced.
1 carrot, peeled and chopped.
1 onion, peeled and chopped.
1 tbsp. of olive oil.
400 ml baby vegetable stock (no added salt).
Method:
Heat the oil in a saucepan, add the vegetables and cook for 5 minutes, stirring occasionally.
Add the baby stock.
Bring to the boil.
Lower the heat and simmer for 30 minutes.
Blend the mixture to the desired consistency