Preparing a bottle-feed: Aptamil Organic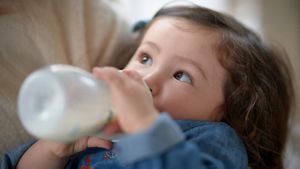 Preparing a bottle-feed: Aptamil Organic
Preparation is key
Learn how to safely make up a feed
If you are thinking about bottle-feeding your baby, it's useful to know how to make up a feed before the time comes. Storing or freezing formula milk is not recommended, so you'll need to make up a new bottle for every feed. Always check the pack for correct preparation advice.
Making up a bottle-feed can seem tricky to begin with, but you'll soon find it becomes second nature. See our step-by-step guide on how to prepare a bottle correctly.

Wash hands and sterilise all utensils according to manufacturers' instructions.

Boil 1 litre of fresh water. Leave kettle to cool for 30 minutes and no longer (allowing the water to reach 70°C once cooled from boiling). Measure the required amount of water (refer to the feeding guide) into a sterilised bottle. Be careful of scalding. Do not use artificially softened or repeatedly boiled water.

Using the scoop provided, level off the powder with the built in leveller. Do not press/heap the powder.

Add the correct measure of powder to the water. This can be found in the feeding guide on the back of the pack. Adding too many or too few scoops can be harmful. Shake vigorously and vertically for 10 seconds until the powder is dissolved. Rolling the bottle or shaking in circles will not be sufficient.

Cool under running tap. Check temperature of feed. Feed immediately.

Questions about feeding and nutrition?
Our midwives, nutritionists and feeding advisors are always on hand to talk about feeding your baby. So if you have a question, just get in touch.
Preparing a bottlefeed: Aptamil Organic